#开源项目# 开源磁盘加密软件,全平台文件加密软件VeraCrypt 1.25 + x64 中文多语免费版 开源磁盘加密软件 VeraCrypt + x64 中文多语特别版发布。VeraCrypt 中文版是一款适用于 Windows,Mac OSX 和 Linux 的免费开源磁盘加密软件。VeraCrypt 是 TrueCrypt 的分支,主要开发者是法国的 Mounir Idrassi,他在 TrueCrypt 基础上强化了防暴力免费功能。VeraCrypt 增强了用于系统和分区加密的算法的安全性,使其免受暴力免费攻击。VeraCrypt 还解决了TrueCrypt中发现的许多漏洞和安全问题。Open source disk encryption software VeraCrypt + x64 Chinese multilingual special edition released. VeraCrypt Chinese version is a free and open source disk encryption software for Windows, Mac OSX and Linux. VeraCrypt is a branch of TrueCrypt. The main developer is Mounir Idrassi of France, who has strengthened the anti-violence free function on the basis of TrueCrypt. VeraCrypt enhances the security of the algorithms used for system and partition encryption to prevent brute-force free attacks. VeraCrypt also solves many vulnerabilities and security issues found in TrueCrypt.
The main feature of the open source disk encryption tool VeraCrypt Chinese version is to create a virtual encrypted disk in the file and install it as an actual disk.
Encrypt entire partitions or storage devices, such as USB flash drives or hard drives.
Encrypt the partition or drive where Windows is installed (pre-boot authentication).
Encryption is automatic, real-time (instant) and transparent.
Parallelization and pipelining allow data to be read and written as fast as the drive is unencrypted.
Encryption can be hardware accelerated on modern processors.
If the opponent forces you to disclose the password, provide a reasonable refusal: hidden volume (steganography) and hidden operating system.
Is a software used to create and maintain dynamic encrypted volumes (data storage devices). Instant encryption means that data is automatically encrypted before being saved and decrypted immediately after loading, without any user intervention. If the correct password/key file or the correct encryption key is not used, the data stored on the encrypted volume cannot be read (decrypted). The entire file system is encrypted (for example, file name, folder name, content of each file, free space, metadata, etc.).
You can copy the file to the installed VeraCrypt volume, or copy it to any ordinary disk (for example, by a simple drag and drop operation). When reading or copying files from an encrypted VeraCrypt volume, the files are automatically decrypted during operation (in memory/RAM). Similarly, files being written or copied to a VeraCrypt volume are automatically encrypted in RAM (before they are written to disk). Please note that this does not mean that the entire file to be encrypted/decrypted must be stored in RAM before it can be encrypted/decrypted. VeraCrypt has no additional memory (RAM) requirements. For instructions on how to accomplish this, please refer to the following paragraphs.
Suppose there is an .avi video file stored on a VeraCrypt volume (therefore, the video file is fully encrypted). The user provides the correct password (and/or key file) and mounts (opens) the VeraCrypt volume. When the user double-clicks the icon of a video file, the operating system launches the application associated with the file type-usually a media player. The media player then begins to load a small initial portion of the video file from the VeraCrypt encrypted volume to RAM (memory) in order to play it. When loading this part, VeraCrypt will automatically decrypt it (in RAM). Then, the media player plays the decrypted part of the video (stored in RAM). While playing this part, the media player starts loading another small part of the video file from the VeraCrypt encrypted volume to RAM (memory), and then repeats the process. This process is called dynamic encryption/decryption and is applicable to all file types (not only to video files).
Please note that VeraCrypt never saves any decrypted data to disk-it only stores them temporarily in RAM (memory). Even if the volume is installed, the data stored in the volume is still encrypted. When you restart Windows or shut down the computer, the volume will be dismounted and the files stored in it will be inaccessible (and encrypted). Even if the power is suddenly interrupted (without proper system shutdown), the files stored in the volume are inaccessible (and encrypted). To make them accessible again, you must mount the volume (and provide the correct password and/or key file).
For more information about the features of VeraCrypt, please refer to the documentation.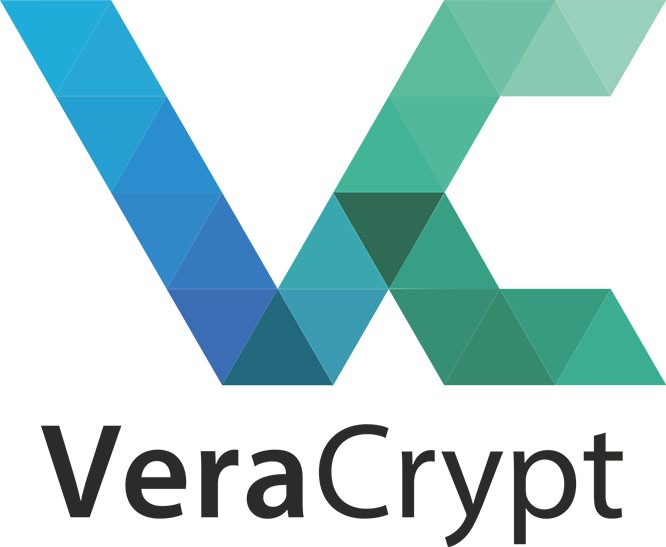 VeraCrypt 主要特点
在文件中创建虚拟加密磁盘并将其作为实际磁盘安装。
加密整个分区或存储设备,如 USB 闪存驱动器或硬盘驱动器。
加密安装 Windows 的分区或驱动器(预启动身份验证)。
加密是自动的,实时的(即时)和透明的。
并行化和流水线操作允许读取和写入数据,就像驱动器未加密一样快。
加密可以在现代处理器上进行硬件加速。
如果对手强迫您泄露密码,则提供合理的拒绝:隐藏卷(隐写)和隐藏的操作系统。
VeraCrypt 是一个用于建立和维护动态加密卷(数据存储设备)的软件。即时加密意味着数据在保存之前就会自动加密,并在加载后立即解密,无需任何用户干预。如果不使用正确的密码/密钥文件或正确的加密密钥,则无法读取(解密)存储在加密卷上的数据。整个文件系统被加密(例如,文件名,文件夹名,每个文件的内容,空闲空间,元数据等)。
可以将文件复制到已安装的 VeraCrypt 卷中,也可以将其复制到任何普通磁盘上(例如,通过简单的拖放操作)。在从加密的 VeraCrypt 卷读取或复制文件时,文件会在运行中(在内存/RAM 中)自动解密。同样,正在写入或复制到 VeraCrypt 卷的文件会在 RAM 中自动加密(在它们写入磁盘之前)。请注意,这并不意味着要加密/解密的整个文件必须先存储在RAM中才能加密/解密。VeraCrypt 没有额外的内存(RAM)要求。有关如何完成此操作的说明,请参阅以下段落。
假设有一个 .avi 视频文件存储在 VeraCrypt 卷上(因此,视频文件是完全加密的)。用户提供正确的密码(和/或密钥文件)并安装(打开)VeraCrypt 卷。当用户双击视频文件的图标时,操作系统启动与文件类型相关联的应用程序 – 通常是媒体播放器。然后,媒体播放器开始将视频文件的一小部分初始部分从 VeraCrypt 加密卷加载到 RAM(存储器)以便播放它。在加载该部分时,VeraCrypt 会自动解密它(在 RAM 中)。然后,媒体播放器播放视频的解密部分(存储在 RAM 中)。在播放此部分时,媒体播放器开始将另一小部分视频文件从 VeraCrypt 加密卷加载到 RAM(内存),然后重复该过程。此过程称为动态加密/解密,适用于所有文件类型(不仅适用于视频文件)。
请注意,VeraCrypt 从不将任何解密数据保存到磁盘 – 它只将它们临时存储在 RAM(内存)中。即使安装了卷,存储在卷中的数据仍然是加密的。当您重新启动Windows或关闭计算机时,将卸除卷,并且将无法访问(并加密)存储在其中的文件。即使电源突然中断(没有正确的系统关闭),存储在卷中的文件也是不可访问(和加密)的。要使它们再次可访问,您必须装入卷(并提供正确的密码和/或密钥文件)。
有关 VeraCrypt 功能的更多信息,请参阅文档。
VeraCrypt 许可证
APACHE LICENSE 2.0
What's new in VeraCrypt 1.25
November 30, 2021
Speed optimization of Streebog.
Update translations.
Add support for Windows on ARM64 (e.g. Microsoft Surface Pro X) but system encryption not yet supported.
Add MSI installer for silent mode deployment (ACCEPTLICENSE=YES must be set in msiexec command line).
For now, MSI installer cannot be used if system partition is encrypted with VeraCrypt
MSI installer requires Windows 10 or newer
Drop support of Windows Vista, Windows 7, Windows 8 and Windows 8.1 because of new requirement for driver code signing.
Reduce time of mount when PRF auto-detection is selected.
Fix potential memory corruption in driver caused by integer overflow in IOCTL_STORAGE_MANAGE_DATA_SET_ATTRIBUTES (reported by Ilja van Sprundel).
Replace insecure wcscpy/wcscat/strcpy runtime functions with secure equivalents.
Changes EFI Bootloader:
Fix memory leak in some cases caused by wrong check of pointer for calling MEM_FREE
Clear bootParams variable that may contain sensitive information when halting the system in case of fatal error
Add option "KeyboardInputDelay" in DcsProp to control the minimum delay supported between two key strokes
Try to workaround Windows Feature Updates issues with system encryption by fixing of bootloader and SetupConfig.ini when system resumes or when session is opened/unlocked
Fix failure to load local HTML documentation if application running with administrative privileges
Fix freeze when password dialog displayed in secure desktop and try to access token keyfiles protected by PIN
Fix failure to launch keyfile generator in secure desktop mode
Block Windows from resizing system partition if it is encrypted
Add keyboard shortcut to "TrueCrypt mode" in the mount dialog.
https://www.veracrypt.fr/en/Release%20Notes.html
声明:本站所有文章,如无特殊说明或标注,均为本站原创发布。任何个人或组织,在未征得本站同意时,禁止复制、盗用、采集、发布本站内容到任何网站、书籍等各类媒体平台。如若本站内容侵犯了原著者的合法权益,可联系我们进行处理。