比特彗星 BitComet 中文版下载发布。BitComet 中文名也叫比特彗星,是一款免费的 BT/HTTP/FTP 下载软件!功能强大速度快,操作简单的 BT 下载软件,BT 资源下载利器!现在的迅雷越来越不好用,使用比特彗星 BitComet 下载也许是一个不错的选择。
The Chinese version of BitComet has been downloaded and released. BitComet is also called BitComet in Chinese. It is a free BT/HTTP/FTP download software! Powerful, fast, easy-to-operate BT download software, BT resource download tool! Xunlei is getting more and more difficult to use now. It may be a good choice to use BitComet to download.
BitComet (BitComet, abbreviated as "BC") is a BitTorrent client software written for the Microsoft Windows platform using the "C++" programming language. It can also be used for HTTP/FTP downloads, and an optional eMule plug-in (eMule plug-in) ) Simultaneous download of BT/eMule via ed2k network. Its features include simultaneous download, download queue, select to download a single file from multiple torrents (torrent), fast download resume, chat, disk cache, speed limit, port mapping, proxy server and IP address filtering, etc. The latest version has added the support of the public DHT network and the anti-blood-sucking protection (for Thunder) setting.
Speed ​​download
BT download is also called abnormal download. You can exchange data with other users through torrent files or magnetic links, and upload data at the same time as downloading. All users are fast! BitComet (Bit Comet) perfectly supports various mainstream BT download protocols, ensuring safe download!
Long-lasting seeds
BitComet (Bit Comet) has a unique long-lasting seed function, which can try to avoid the downloading stuck at 99% when the seed user leaves, and it can significantly increase the download speed!
Disk cache
In the early years, some downloaded software would damage the hard disk. BitComet first used disk caching technology to minimize the number of reads and writes of the disk to increase the life of the hard disk.
Put below
When BitComet downloads a video file, it gives priority to downloading the file header and the end, so that it can be placed below the bottom, and the user can preview the video content in advance during the downloading process.
P2P download
Integrating BT's P2P technology with HTTP/FTP, it automatically finds other downloading users for P2P downloads, which does not increase the burden on the server, but can also increase the download speed.
Multi-language support
It can correctly process multi-language operating systems, multi-language web pages, and URLs encoded with multi-language paths.
BitComet is a completely free BitTorrent (BT) download management software, also known as a BT download client, and it is also a download manager integrating BT/HTTP/FTP. BitComet has a number of leading BT downloading technologies, a unique technology for downloading and playing, and a convenient and natural interface. The latest version applies BT technology to ordinary HTTP/FTP downloads, which can speed up your ordinary downloads through BT technology.
operating system:
Windows 10/8.1/8/7/Vista 32bit/64bit
Windows XP/2003/2000 32bit
Windows 98/Me users please use v1.20 free installation version
BitComet license
This software is freely licensed software and is not for sale. You can copy, distribute and disseminate this software for free, but you must ensure that every copy, distribution and dissemination must be unaltered, complete and true. You use this software privately as an individual. You can only use this software for non-commercial applications.
Official website
What's new in BitComet 1.83
GUI Improved: allow to modify download link when HTTP task is stopped
GUI Improved: add User-Agent and Cookie setting boxes in HTTP task properties window
GUI Improved: new advanced setting item: http.auto_import_cookie
GUI Improved: Change the upper limit of HTTP task disk cache on the disk cache page of the option window to 32MB per connection
GUI Improved: add torrent market setting page in global options dialog
GUI Improved: Global options can be individually set to share the torrent market with others, RSS seeds, DHT seeds, and the metadata cache directory downloaded in the Tracker seed list (the old version cannot load cache data after enabling)
GUI Improved: global option can set whether the downloaded metadata cache directory is saved in multi-level subdirectories (the old version cannot load cache data after enabling)
GUI Improved: add filtering and sorting status indicator to the seed list toolbar
GUI improvements: Added option for sharing with others and RSS seed list: only display torrent files with metadata
GUI improvements: memory usage statistics increase the memory size occupied by file lists and metadata downloads
GUI Improved: improve the display of the checkbox icon of the file list when zooming in non-integer multiples of DPI
GUI Improved: automatic line wrapping in label toolbar
GUI Improved: automatically adjust the file name column width of the file list in the BT task properties dialog
GUI Improved: Chrome extension supports capturing file download triggered by JavaScript script
GUI Improved: the option of capturing file download in Chrome extension is no longer affected by the setting item in Comet main program
GUI Bugfix: when using a Chrome extension to download a link from the Chrome download list, the correct referrer URL cannot be obtained
GUI Bugfix: refresh problem of tab list in task summary panel
GUI Bugfix: in the UDP transmission information of the statistics page, the speed limit information is not displayed when the UDP long-term upload has an unlimited speed
GUI Bugfix: do not reset the size of the BT task properties dialog box when the metadata download is complete
GUI Bugfix: after switching languages, the title of the file list is not all updated
GUI Bugfix: when DHT is set to delay start but DHT is disabled, the DHT status is displayed incorrectly
Core improvement: The version information provided to other peers is accompanied by a suffix of the Mac version or the Android version
Core improvement: When downloading HTTP connection directly, try to read the cookie information of the corresponding domain name in Chrome/Edge browser to meet server verification requirements
Core Improved: HTTP download supports the file name specified by the filename* attribute in the Content-Disposition response header
Core Improved: After the program is restarted, the tasks that were manually paused before exiting can be manually resumed
Core Improved: reduce the CPU usage when the seed list is not sorted
Core Improved: reduce the interface freeze when operating BT tasks with a huge number of files
Core Improved: reduce the CPU usage when adding records to the seed list
Core Bugfix: disk acceleration service is not called when the HTTP task is not started to allocate disk space in advance
Core Bugfix: Seedlist keyword filtering has incorrect processing of non-Latin characters
Core Bugfix: exporting the backup file when loading the database in the seed list will cause the program to crash
Core Bugfix: when the HTTP task allows to find the mirror address, the download may still fail after modifying the original download address
Core Bugfix: memory usage is not released in some cases after metadata download
Core Bugfix: the file size of the disk acceleration service is set incorrectly in some cases
The official website does not have a Chinese version. This site is specially provided for download in simplified Chinese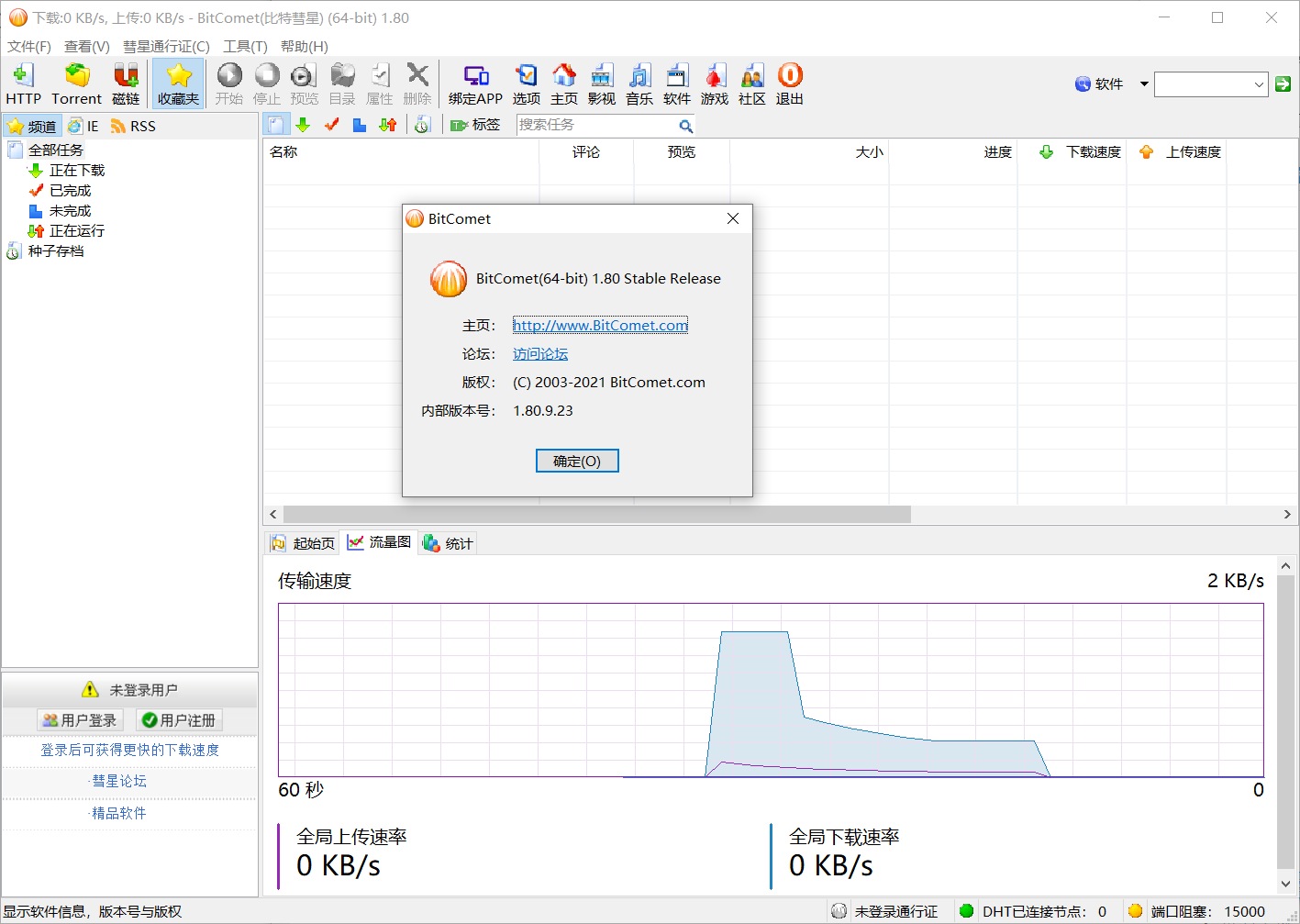 比特彗星(BitComet,简写为"BC")是一款采用"C++"编程语言为 Microsoft Windows 平台编写的BitTorrent 客户端软件,也可用于HTTP/FTP下载,并可选装 eMule 插件(eMule plug-in)通过 ed2k 网络进行 BT/eMule 同时下载。它的特性包括同时下载,下载队列,从多文件种子(torrent)中选择下载单个文件,快速恢复下载,聊天,磁盘缓存,速度限制,端口映射,代理服务器和IP地址过滤等。最新的版本中加入了公用 DHT 网络的支持和反吸血保护(针对迅雷)设定。
极速下载
BT下载又被称为变态下载,通过种子文件或者磁链可以和其他用户交换数据,下载的同时也上传数据,所有用户都速度飞快!BitComet(比特彗星)完美支持各种主流BT下载协议,保证安心下载!
长效种子
BitComet(比特彗星)独有长效种子功能,可以尽量避免种子用户离开导致下载卡在99%,而且能够显著增加下载速度!
磁盘缓存
早年有部分下载软件会伤硬盘,BitComet(比特彗星)首先使用了磁盘缓存技术,将磁盘的读写次数降到最低从而提高硬盘寿命。
边下边放
BitComet(比特彗星)在下载视频文件的时候,优先下载文件头尾,这样可以实现边下边放,用户可以在下载过程中提前预览视频内容。
P2P下载
将BT的P2P技术与HTTP/FTP融合,自动寻找其他下载用户进行P2P下载,即不增加服务器负担,又能提高下载速度。
多语言支持
能正确处理多语言操作系统多语言网页,多语言路径编码过的网址。
BitComet(比特彗星)是一个完全免费的 BitTorrent(BT)下 载管理软件,也称 BT 下载客户端,同时也是一个集 BT/HTTP/FTP 为一体的下载管理器。BitComet(比特彗星)拥有多项领先的 BT 下载技术,有边下载边播放的独有技术,也有方便自然的使用界面。最新版又将BT技术应用到了普通的HTTP/FTP下载,可以通过BT技术加速您的普通下载。
操作系统:
Windows 10/8.1/8/7/Vista 32bit/64bit
Windows XP/2003/2000 32bit
Windows 98/Me用户请使用v1.20免安装版
BitComet 许可证
本软件是免费许可软件,不进行出售。你可以免费的复制,分发和传播本软件, 但您必须保证每一份复制、分发和传播都必须是未更改过的,完整和真实的。您作为个人私用本软件。您只能对本软件进行非商业应用。
What's new in BitComet 1.83
界面改进:HTTP任务停止时允许修改下载链接
界面改进:HTTP任务属性窗口增加User-Agent和Cookie设置框
界面改进:新增高级设置项:http.auto_import_cookie
界面改进:选项窗口磁盘缓存页面HTTP任务磁盘缓存上限改为每连接32MB
界面改进:全局选项对话框增加种子市场设置页面
界面改进:全局选项可单独设置种子市场他人共享、RSS种子、DHT种子、Tracker种子列表里下载的元数据缓存目录(启用后旧版无法加载缓存数据)
界面改进:全局选项可设置下载的元数据缓存目录是否使用多级子目录保存(启用后旧版无法加载缓存数据)
界面改进:种子列表工具栏增加筛选、排序状态指示
界面改进:他人共享、RSS种子列表增加选项:仅显示含元数据的种子文件
界面改进:内存使用统计增加文件列表、元数据下载占用的内存大小
界面改进:改进非整倍数DPI缩放时文件列表的checkbox图标显示
界面改进:标签工具栏自动换行
界面改进:BT任务属性对话框自动调整文件列表的文件名称列宽
界面改进:Chrome扩展支持捕获JavaScript脚本触发的文件下载
界面改进:Chrome扩展里捕获文件下载的选项不再受彗星主程序里的设置项影响
界面修正:使用Chrome扩展从Chrome下载列表中下载链接时,未能获取正确的引用页URL
界面修正:任务摘要面板标签列表刷新问题
界面修正:统计页面UDP传输信息里,UDP长效上传无限速时不显示限速信息
界面修正:元数据下载完成时不要重置BT任务属性对话框大小
界面修正:切换语言后,文件列表标题未全部更新
界面修正:在设置DHT延迟启动但禁用DHT时,DHT状态显示有误
核心改进:向其它peer提供的版本信息附带Mac版或Android版后缀
核心改进:直接下载HTTP连接时,尝试读取Chrome/Edge浏览器中对应域名的Cookie信息,以满足服务器验证需求
核心改进:HTTP下载支持Content-Disposition响应头中以filename*属性指定的文件名
核心改进:程序重启后可手动恢复退出前手动暂停的任务
核心改进:降低种子列表未排序时的CPU占用率
核心改进:减少操作文件数巨大的BT任务时的界面卡顿
核心改进:降低种子列表添加记录时的CPU占用率
核心修正:HTTP任务未开启提前分配磁盘空间时,没有调用磁盘加速服务
核心修正:种子列表关键字过滤对非拉丁字符处理有误
核心修正:在种子列表加载数据库时导出备份文件会造成程序崩溃
核心修正:HTTP任务允许查找镜像地址时,修改原始下载地址后可能仍然会下载失败
核心修正:元数据下载后某些情况下没有释放内存占用
核心修正:磁盘加速服务个别情况下设置文件大小有误
官网没有中文版 本站特别提供 简体中文版下载
点击下载BitComet 1.83(提取码:4561)
声明:本站所有文章,如无特殊说明或标注,均为本站原创发布。任何个人或组织,在未征得本站同意时,禁止复制、盗用、采集、发布本站内容到任何网站、书籍等各类媒体平台。如若本站内容侵犯了原著者的合法权益,可联系我们进行处理。